Facilitating collaborations across artistic disciplines has become a central part of my practice, coming to bear in my work as a film producer as well as in cross-arts poetry projects.  
Since founding the cross-arts collective
Thorn
 in 2015, I've been increasingly drawn to the development of emerging artists and creative practitioners, especially those working between media or different writing or creative approaches.
This extends to my full-time work at
Film and Video Umbrella
. As Production Officer, I form part of a small team working to support contemporary artists commissioned to create film and moving image works—from seasoned film artists to emerging voices.
THORN DURHAM
Founded in 2015 and on hiatus since 2021, Thorn provided an independent platform for new voices creating in any medium and across artistic disciplines.  Thorn facilitated a diverse range of live events, from gigs and poetry performances to exhibitions, workshops and arts festivals.  Events are run by and for artists and the collective was run on a voluntary basis.
Artists across disciplines were given space to meet, perform and share work: a supportive environment for experimentation and growth.  This process encouraged the cross-pollination of art forms and new multi-disciplinary collaborations.  One such success story is The Poetry Experiment, a jazz/spoken word ensemble whose members met while performing at one of our events in 2017.  
Many artists we have hosted are pursing successful careers in the arts, as writers, visual artists, performers and creative practitioners, including Soham De, Jelly Cleaver, Prasanna Sellathurai, Rebekah Fitch, Karishma Sangtani, Fahad Al-Amoudi, Grace Ifere, Melissa Tutesigensi, Libby Pattison, Kym Deyn and

Nathaniel Spain

.
As new volunteers joined the team each year—a mix of students at Durham University and people based in County Durham—coaching and mentoring new team members became an integral part of Thorn's core aims.
See Thorn's website to see what we got up to.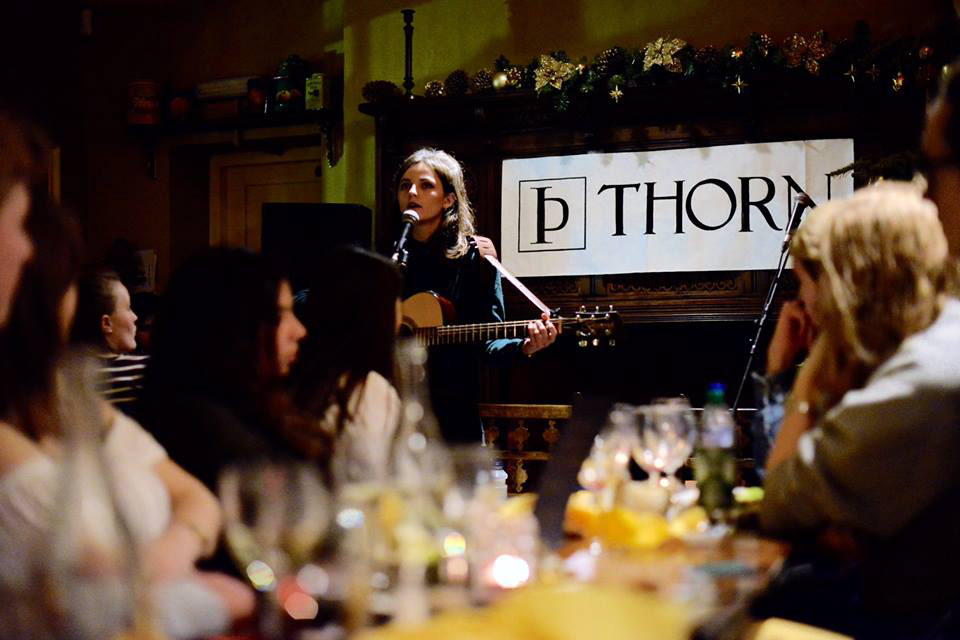 Workshops and Talks
I have delivered workshops and lectures for schools, universities and institutions, including Durham University and the Barbican.  These have included sessions on Sappho, queer inheritance and Classical literature.
F
or the Artist and the Machine event, held as part of the 2019 exhibition

AI: More than Human, 
I collaborated with other Barbican Young Poets to deliver a series of 

drop-in workshops

for the general public at the Barbican Centre.  
As part of my latest film project,

THE STYX

, composer Athanasia Kontou and I hosted a roundtable discussion about the themes of the film with EMDR practitioner Jessica Woolliscroft, writer and performer Laura Bowler, and Jacqui Suttie, founder of the charity PTSD UK.